Powdercoated Designer Table Bases
Contemporary table bases for a sleek, affordable designer look.
BIC Industries' powdercoat finish designer table base range not only look professional, but also provide an affordable alternative to stainless steel. This range achieves a full flush designer finish that ensures there are no visible welds. With the durable table base design, we are certain you will be completely satisfied with the Flushline or Planate table bases.
Flushline base is a mid range contemporary steel frame suited to both commercial and residential applications. The base rails are designed to give a modern flush look to the base without the added expense of being a fully flush finish. It achieves a unique and modern look at a lower price range.
Available in powdercoat finish.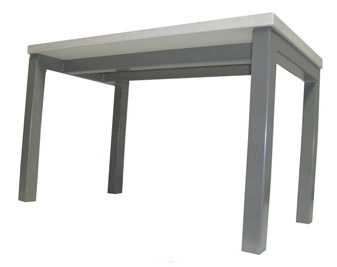 The Planate designer range includes steel table bases, with or without a H-frame foot-rail. These frames are a popular choice for restaurants, bars, hotels and various other spaces.
Available in 25mm, 32mm, 38mm and 50mm square, with powdercoat finish.